The Crochet Basket Duo Kit is a great Spring/Summer craft project, learn how to crochet whilst making yourself something beautiful. The finished baskets are soft yet structural with a pleasing texture, a great storage solution for all your craft supplies or house plants.
Free UK delivery on all orders over £40
UK standard delivery: £3.50 (free over £40)
EU standard delivery: £10 (free over £80)
USA standard delivery: £20
Rest of the world standard delivery: £15
All international orders may be subject to customs, handling and VAT charges at the point of delivery.
Stitching Me Softly is not responsible for paying these fees. Each country has their own duties and taxes, so you the buyer are responsible for paying any incurred fees when you receive your order.
Sent from my studio in Bristol, UK all crochet craft kits are carefully packaged in sustainable, plastic- free packaging and you will receive:
2 x Balls of 5mm Bobbiny 100% Recycled Cotton Cord
1 x Bamboo Crochet Hook
1 x Crochet Pattern
1 x How to Crochet Guide
1 x Stitch Marker
Takes about 2-3 hours to make
All the craft kit details
Add some handmade accessories to your home using the Crochet Basket Duo Kit. Made using 100% recycled cotton cord that creates a lovely tactile texture when crocheted into a basket.
Is your house in need of some colourful storage solutions? These baskets are great for craft storage, keeping your bathroom counter neat and tidy, or pop your favourite house plant inside to add a pop of colour to your living room.
Chunky cotton baskets are a wonderful Spring/Summer crochet project and this diy kit contains all the materials and tools you will need to crochet 2 baskets in your choice of 2 different sizes and colours.
In addition you have the choice whether or not to add a hanging loop to the smaller size basket.
The finished baskets will measure roughly 13cm high x 12cm wide for the smaller size and 14ch high x 15cm wide for the larger size.
What's in the Crochet Basket Duo Kit:
1 x Bamboo Crochet Hook
2 x Balls of 5mm Bobbiny 100% Recycled Cotton Cord
1 x Crochet Pattern
1 x How to Crochet Guide
1 x Stitch Marker
The Crochet Basket Duo Kit is suitable for those with basic crochet knowledge who want to improve their skills.
If you are a complete beginner you can work your way through the How to Crochet Guide first before making a start on the basket patterns.
Each craft kit is packed neatly in tissue paper inside a Kraft box finished with a paper sticker. All packaging can be recycled.
Why Bobbiny Cotton Cord?
Bobbiny cord is a 100% recycled product made in Poland. The waste from textile factories is saved from going into landfill and reworked into these wonderfully soft yarns. The process uses no additional water or dyes making these cords a very sustainable option.
The sustainability and soft chunky texture of the cord make it the perfect choice for our range of Craft Kits.
The cords carry OEKO-TEX 100 certification which guarantees that the products are free from harmful substances e.g. pesticides, chlorophenols, formaldehyde, allergenic dyes, forbidden azo dyes and extractable heavy metals.
***Please note this listing is for a craft kit containing the materials to make your own crochet baskets, not the finished baskets.***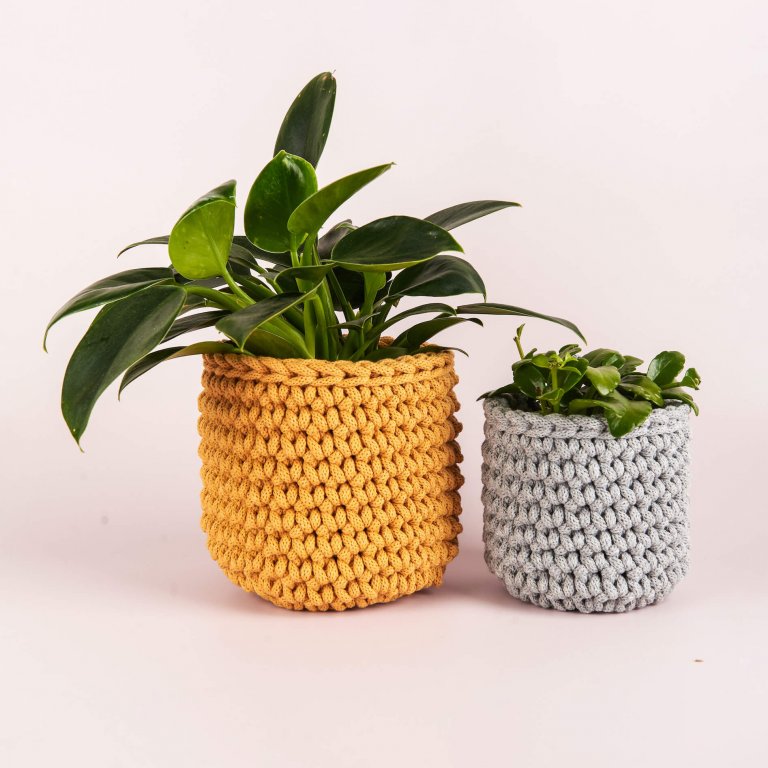 Bobbiny braided cotton cord is a 100% recycled yarn made from textile factory waste that was destined for landfills.
Stitching Me Softly is an independently crafting company proudly based in Bristol, UK. Founded by Emma Bassey, a lady on a mission to share beautiful and sustainable craft kits with kids, teens and adults.
Mastered the Crochet Basket Duo Kit?
Refill your Crochet Basket Duo Kit
Shop top-up craft kit supplies and get crafting again