Special Edition Friendship Bracelet Kit
Each Friendship Bracelet craft kit contains an exclusive cotton colour pack with extra colours and a holographic glitter cord loom. 15% of each sale of this Special Edition Friendship Bracelet Kit will be donated to Young Minds. Extra cotton cords to refill this kit can be found
here.
Free UK delivery on all orders over £40
UK standard delivery: £3.50 (free over £40)
EU standard delivery: £10 (free over £80)
USA standard delivery: £20
Rest of the world standard delivery: £15
All international orders may be subject to customs, handling and VAT charges at the point of delivery.
Stitching Me Softly is not responsible for paying these fees. Each country has their own duties and taxes, so you the buyer are responsible for paying any incurred fees when you receive your order.
All the craft kit details
The Stormy Rainbows edition of this craft kit was born after a customer request for a Friendship Bracelet making kit suitable for a teenager who was struggling with their mental health during lockdown. She wanted to send a gift that could be calming and mindful and allow them to create something beautiful.
This craft kit is great fun for all ages and craft abilities, se the cord loom to create your very own multi coloured Friendship Bracelets.
The cords you make can also be turned into necklaces, keyrings or used in bigger craft projects.
The Special Edition Friendship Bracelet Kit Includes:
1 x Limited Edition Holographic glitter laser cut cord loom.
1 x Instruction Sheet – includes lots of written information and pictures to follow.
11 x 4m lengths of coloured cotton yarn – a mix of colours come as standard.
Each Special Edition Friendship Bracelet Kit comes packaged in a fully recyclable cardboard box with paper sticker. Please recycle the packaging when you have finished with it.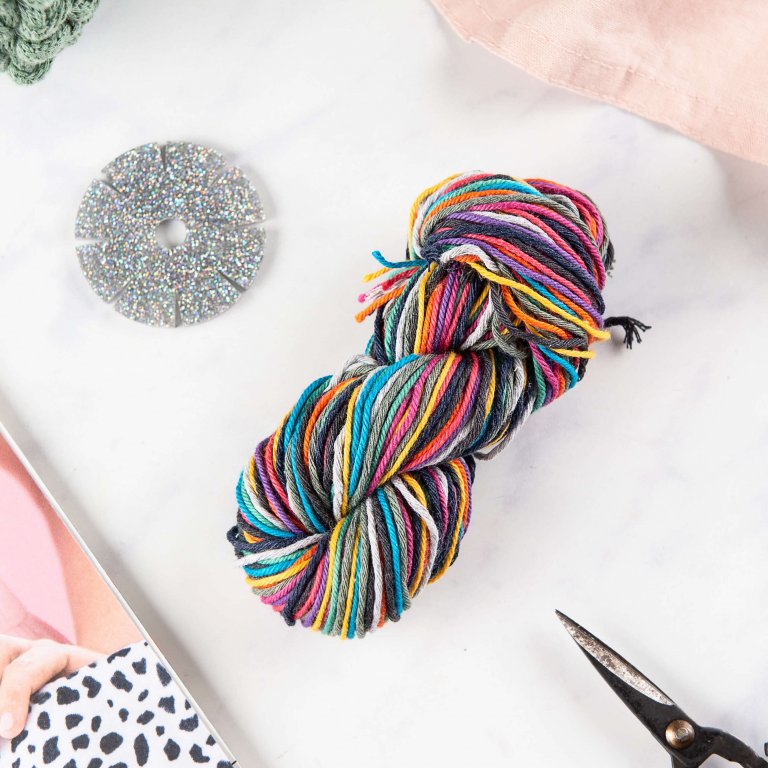 Hoooked made it their mission in 2018 to take discarded textiles and give these surplus materials and new life by turning them into gorgeous craft yarns.
Their recycled cotton yarns made by are mechanically pulverising textile leftovers, mixing them together to make new colours, finally spinning, twisting and knitting them into new yarns. No additionally dyes are used and the whole recycling process is water free.
Stitching Me Softly is an independently crafting company proudly based in Bristol, UK. Founded by Emma Bassey, a lady on a mission to share beautiful and sustainable craft kits with kids, teens and adults.
Mastered the Special Edition Friendship Bracelet Kit?
Refill your Special Edition Friendship Bracelet Kit
Shop top-up craft kit supplies and get crafting again